Disinfectant & Sanitizing Services in Virginia, Maryland & DC
As the COVID-19 virus continues to spread, Atlantic Sweeping & Cleaning, Inc. are committed to the health and safety of our communities. For the safety and protection of your employees, customers, construction sites, contractors and their families, we offer disinfectant & sanitizing services for construction sites, industrial work areas, office buildings, retail businesses, property managers and homeowner associations to reduce the risk of exposure to the virus.
Piece of mind is only a phone call away. 
Call Atlantic Sweeping & Cleaning, Inc. and our professionals will arrive on-site to perform your sanitization service wearing proper safety gear to include PPE and respirator masks. 
Our cleaning protocols reflect the most effective commercial virus neutralization and removal methods available. Further, as we learn more from the CDC and others, our protocols are modified to reflect the current best practices.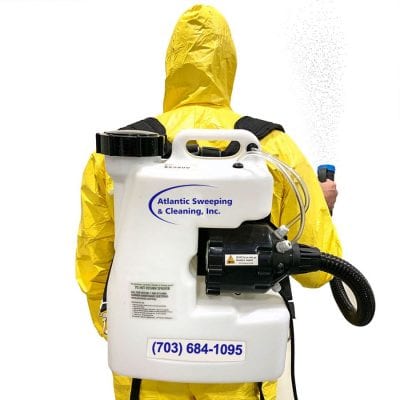 Preventative Sanitizing and Disinfectant Cleaning 
In areas with no known exposure to the virus, preventative cleaning includes sanitization and mechanical cleaning of exterior areas and common touchpoints surfaces such as parking garages, elevator lobbies, hand rails, buttons, stairwells, doorknobs, fire extinguishers, poll stations, store fronts, trash cans and operational fixtures with microfiber cloths and an EPA-approved disinfectant solution.
Decontamination Sanitizing and Disinfectant Cleaning
In areas with known or suspected exposure to the virus, we provide:
Fogging of EPA-approved disinfectant through out the exterior areas.
Fogging of common areas with an EPA-approved disinfectant to force airborne contaminants to settle on flat surfaces
Sanitization and mechanical cleaning included in the Preventative service
This sanitization service is solely intended to reduce risk and not meant to guarantee safety against the virus. We recommend everyone follow social distancing, washing hands frequently, general safety recommendations and the advice of medical professionals regarding the prevention of infections.
Tell us about yourself, what type of service you'd be interested in and any information you think may help us understand you needs better. We will get back to you within 24 hours to schedule a free estimate.
Cities & Counties We Serve
Maryland:
Glenmont
,
Oxon Hill
,
Frederick
,
Takoma Park
,
Clinton
,
Silver Spring
,
Germantown
,
Columbia
,
Wheaton
,
Montgomery
,
Towson
,
College Park
,
Temple Hills
,
Gaithersburg
,
Prince George's
,
Elkridge
,
Howard
,
Rockville
,
Potomac
,
Olney
,
Chevy Chase
,
Capitol Heights
,
Bethesda
,
Beltsville
,
Baltimore
,
Ann Arundel
,
DMV
,
Virginia:
Annandale
,
Alexandria
,
Arlington
,
Ashburn
,
Ballston
,
Burke
,
Centerville
,
Chantilly
,
Clarendon
,
Dale City
,
Fairfax
,
Fair Oaks
,
Falls Church
,
Fredericksburg
,
Gainesville
,
Great Falls
,
Haymarket
,
Herndon
,
Leesburg
,
Loudoun
,
Manassas
,
Manassas Park
,
McLean
,
Oakton
,
Potomac Falls
,
Prince William
,
Reston
,
Rosslyn
,
Spotsylvania
,
Springfield
,
Sterling
,
Tysons Corner
,
Vienna
,
Woodbridge
,
NOVA
,
DMV
,
Richmond
,
Washington D.C.:
The Beltway
,
DMV
,
495 Loop
,
Southeast
,
Southwest
,
Georgetown
,
West End
,
Dupont Circle
,
Logan Circle
,
Cardozo
,
Bloomingdale
,
Noma
,
Waterfront Park
,
Foggy Bottom
,
Adams Morgan
,
H Street Corridor
,
Park View
,
Petworth
,
Edgewood
,
Brentwood
,
Trinidad
,
Congress Heights
,